Date
30 Jun 2022
Expired!
Repowering for the People: challenges and opportunities for EU member states
As the LIFE Unify project comes to an end after three years of hard work and important accomplishments, the Unify consortium has organised a final high-level event: "Repowering for the People: challenges and opportunities for EU member states."
The event will take place online on June 30, 10:00-11:30 CET. You can already register HERE!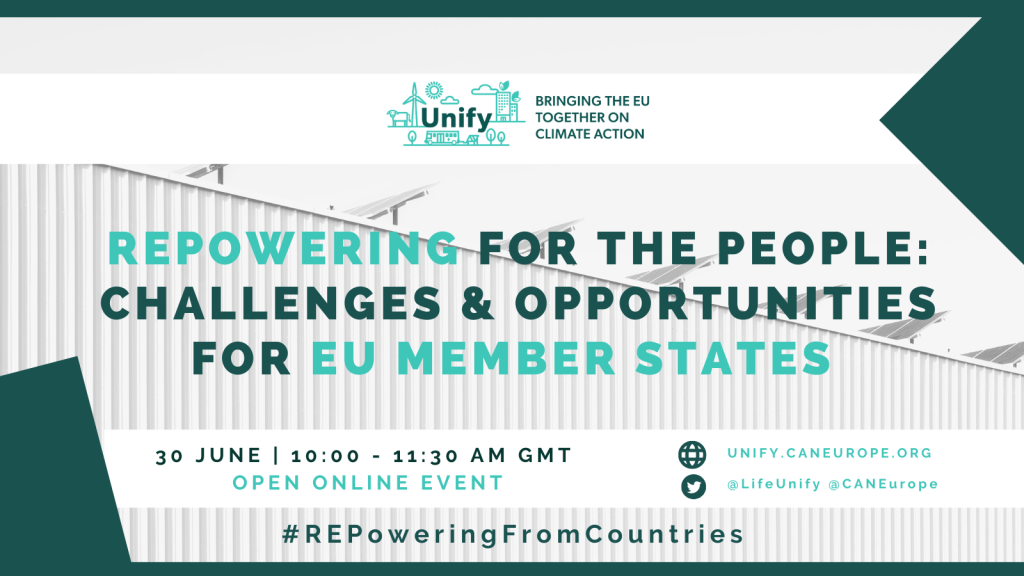 What is the event about?
Russia's invasion of Ukraine exposed the fossil fuel crisis more than ever, further highlighting the need for immediate actions to tackle the ongoing climate emergency and accelerate a needed energy transition. On 18 May, the European Commission reacted by presenting 'REPowerEU', with the objective of weaning off the EU's reliance on energy imports from Russia and keeping energy prices under control. 
This high-level event, organised as part of the LIFE Unify project, will dicuss how Member States can use the 'REPowerEU' as an accelerator for the energy transition and national climate action.
The panel will be an opportunity reflect on bottlenecks to overcome and opportunities to seize at the national level – from adequate funding instruments to the upcoming revision of National Energy and Climate Plans – in order to ensure that 'REPowerEU' brings the EU on track with 1.5°C-aligned 2030 climate targets and puts people at the heart of the transition.
Our panelists
Gerhard Huemer, SME United 
Katerina Davidova, CDE / LIFE Unify
Oliver Vardakoulias, CAN Europe
Yolanda Garcia Mezquita, DG ENER
…and more! 
The event will be moderated by renowned journalist Anca Gurzu (@AncaGurzu). Anca works as correspondent for Cipher, based in Brussels. She has a long experience covering climate and energy and bringing the latest from the EU, including 5 years with Politico. We are sure she will bring an interesting perspective to the very hot topics that will be in our discussions!
REGISTRATION LINK AVAILABLE HERE!